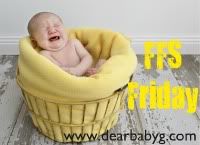 Today I'm linking up with Dear Baby G
http://www.dearbabyg.com
for FFS Friday. So here is how my week went,
Sunday last minute decision to go to Perth to do food shopping & collect my engagement ring which was being repaired. All this Kid free
No FFS
Doing a 5hr round trip to go shopping
FFS
Monday morning went for a walk/ run ran as for as long as I could and smashed it.
No
FFS
Hockey meeting Monday night which meant I didn't get home until 10pm
FFS
Tuesday was all set to do fitness training for hockey but had a 'funny' tummy so couldn't do much
FFS
Tuesday night got home at 6pm had a nightmare hour or so with getting dinner, doing reading spelling homework, baths, bed etc. Nothing like being organised
FFS
Wednesday Weigh In lost 300grams
No FFS
Hubby has started carting lime which means he now leaves home before 6am. So no morning run/ walk for me
FFS
Finding kids clothes ALL over the house, none in the dirty clothes basket. No wonder they are complaining they have no socks. If they aren't in the basket they don't get washed
FFS
Wednesday afternoon as always was full on work / dancing/ work.
FFS
Wednesday night got to have drink and catch up kid free
No FFS
Thursday tried to be a good housewife. Had done the dishes, vacuuming & couple of loads of washing all but 10am.
No FFS
Hang out washing come back in to find a full box of rice bubbles tipped out and squashed into newly vacuumed carpet
FFS
Had huge plans to fold a mountain of washing whilst watching season one of Hart of Dixie. Didn't happen
FFS
(it's still staring at me)
After work was all set to go to fitness training. Had a plan of what I wanted to do. However had to take 20month old Bugalugs. Couldn't even do a sit up with out her trying to crawl on me. Tried running whilst carrying her.
FFS
Got home at 7pm was slightly more organised. Had made meatballs just had to cook them & the rest of tea, homework, bath, bed etc
FFS
After living in this house for almost 3 years and having our dishwasher live in our outside laundry unable to be used. We finally got a quote to have it installed. Took it to Mark's boss (who owns the house) he said yeah no worries. So no
FFS
we are getting in installed. But
FFS
why didn't we do it 3 years ago
FFS!!!!! (it deserved two FFS)